---
Annual Scholarship Dinner
The 24th Annual Scholarship Dinner was a great success! With over 200 students, retailers, and faculty members present it was a great way to kick off the fall semester.  We were lucky enough to host our very own FSU Alumna, Carley Ochs, CEO and founder of Bourbon and Boweties as our keynote speaker. We appreciate the continuous support from all of our sponsors. Over $30,000 in scholarship money was awarded during this event. Congratulations to the 35 scholarship recipients and thank you to all who attended this event. 
We look forward to the 25th Annual Scholarship Dinner in September 18, 2019 ; contact Ann Langston for table reservations. To help sponsor this event, please submit the following form.
---
---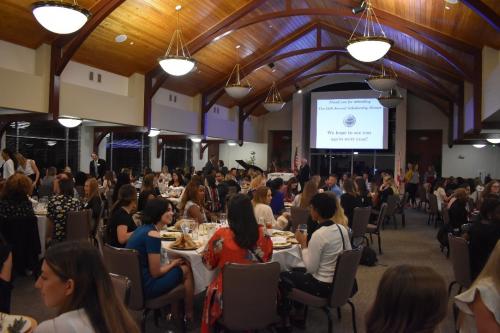 ---
The Retail Summit
The 2018 Retail Summit is our annual networking event in the Spring and this year it was a huge success. Over 200 students, retailers, and faculty had the opportunity to hear from Ressa Lake, EVP Brand Partnerships at Digital Brand Architects, speak about her impressive accomplishments since graduating from FSU as a retail student. Reese's diverse experience offered the students sage advice when starting their career paths. The networking lunch  gave students and retailers one-on-one time to make meaningful connections. 
---
---
title-inside title-centered
2